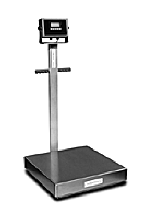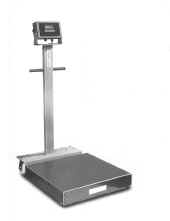 640-P 640-PS
| | |
| --- | --- |
| | The Model 640-P has (4) 4" wheels that only roll back and forth, they do not swivel. |
| | The Model 640-PS has (2) rear 5" wheels that swivel in any direction and (2) standard 4" wheels in the front. |
MODEL 640-P & 640-PS STANDARD FEATURES
• 50 lb. to 1000 lb. capacity.
• Low cost and maintenance.
• Structural tubular carbon steel construction.
• Environmentally protected, NTEP Certified-5000 Division aluminum load cell.
• Heavy gauge painted steel cover.
• 6 point overload protection.
• Urethane enamel paint.
• 40" high indicator column w/ mounting plate.
• OSHA orange safety handle grips.
OPTIONS
• Durable anti-skid adjustable brake. Model 640-P only.
• Locking 4" cast iron wheels with roller bearings. Model 640-PS only.
• Indicator mounting plate with 360° ball bearing swivel.
• Plastic wheels for harsh environments.
• Stainless steel cover for harsh environments and corrosive materials.
• Stainless steel or "FM" approved load cells.

Choice of indicators
T

I-500E
Painted metal & plastic enclosure
Electric powered

TI-500SL
Stainless Steel enclosure
Waterproof
Runs on batteries & electricity
Model 640-P
| | | | |
| --- | --- | --- | --- |
| Platform Size | Capacity | with TI-500E | with TI-500SL |
| 24" x 24" | 50 lb x 0.01 | $1,175 | $1,429 |
| 24" x 24" | 100 lb x 0.02 | $1,175 | $1,429 |
| 24" x 24" | 250 lb x 0.05 | $1,175 | $1,429 |
| 24" x 24" | 500 lb x 0.1 | $1,210 | $1,455 |
| 24" x 24" | 1,000 lb x 0.2 | $1,210 | $1,455 |
*Add $450 for Stainless Steel construction
Model 640-PS
| | | | |
| --- | --- | --- | --- |
| Platform Size | Capacity | with TI-500E | with TI-500SL |
| 24" x 24" | 50 lb x 0.01 | $1,285 | $1,540 |
| 24" x 24" | 100 lb x 0.02 | $1,285 | $1,540 |
| 24" x 24" | 250 lb x 0.05 | $1,285 | $1,540 |
| 24" x 24" | 500 lb x 0.1 | $1,320 | $1,570 |
| 24" x 24" | 1,000 lb x 0.2 | $1,320 | $1,570 |
*Add $670 for Stainless Steel construction