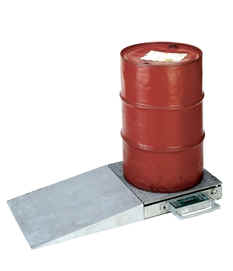 CW250 with optional ramp
| | |
| --- | --- |
| | Ideal for drums, chlorine cylinders, hazardous medical waste and |
other containers
| | |
| --- | --- |
| | Capacities ranging from 300 to 2,000 lb/150 to 1,000 kg |
| | All aluminum self contained unit provides accuracy of ±0.1% |
| | Available in 15 x 15 or 24 x 24 inch sizes |
| | Can interface with an optional printer or remote display |
| | Accumulation and printout of multiple weights |
With its compact design, plus easy portability, the Intercomp Model CW250TM Scale
is ideal for weighing 55-gallon drums, chlorine cylinders, propane bottles, freon tanks,
hazardous medical wastes and other liquid or gaseous containers. But those are just
a few uses. Think of the many other items in your plant that you can weigh with it.

It's available in twelve high performance models with capacities ranging from
300 to 2,000 lb/150 to 1,000 kg. There are two sizes of weigh platforms:
15" x 15"x4"/380x3803100 mm, and 24"x24"x4"/610x610x100mm. This rugged,
all aluminum, self-contained unit provides accuracy of ±0.1% (NTEP Class III)
of applied load. Fully battery operated, this Intercomp scale requires only infrequent
recharging from any 12, 120 or 220 volt power source (charger adaptor and cable
provided). For night use, you light up the display area by just touching the "lamp"
switch. to record weights, the scale will interface with an optional printer or
display (such as our P-DP printer or SA2000 display).

Options
| | |
| --- | --- |
| | Remote Indicator (Pedestal, floor or wall) |
| | 220V, 50Hz Charging Transformer |
| | 20mA Current Loop/RS232 Output |
| | Ramp |
| | Battery Operated Tape Printer |
| | Transport Wheels |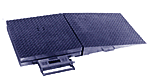 CW250 with optional ramp
General Information on CW250 Scale
This unit is designed as an NTEP Class III weighing device.
Data Interface: 20mA current loop/RS232 Output
Batteries: Six AA 1.2 volt nickel cadmium (standard), or six AA 1.5 volt alkaline
Battery Life: Approximately five years (1500 charge/discharge cycles.)
Battery duration between charges:
Approximately 8 hours of continuous use before the low battery indicator comes on, and up to two hours after that before the scale automatically shuts itself off. (These numbers are lowered by use of lamp or active current loop transmission.)
Charging Voltage: 11.5 volts to 14.5 volts DC. Protection is provided for accidental reversal of charging connections.
Charging Current: Starts at 300mA and drops down to 50mA after 8 hours.
Charging Time: 8 hours if the batteries are discharged to the point of shutting off the scale.
Construction: All aluminum design provides EM/RFI immunity.
Accuracy: ±0.1% of applied load (NTEP Class III)

Specifications
Ambient
Humidity: 5 to 95% Non-Condensing
Temperature:
Operating:
-28°C to 65°C
-20°F to 150°F
Storage:
-40°C to 75°C
-40°C to 170°F
EMI/RFI: Meets Mil Spec 461
Physical:
Dimensions and weight:
24x24x4"/610x610x100mm
85 lbs./39 kg
15x15x4"/380x380x100mm
38 lbs./17 kg
Case: Aluminum
Electrical:
Voltage; Self-contained nickel cadmium batteries (standard) or alkalines. Integral recharger to charge or operate from a 12, 110 or 220 volt power source.




Controls:
General: All located on waterproof membrane keypad with large contact surfaces.
Print: Outputs weight local
On/Off: Two separate switches for unambiguous operation.
Zero/Test: Pushbutton zero checks for motion to HB-44. Test performs internal test.
Hold/Release: Hold places scale in automatic capture mode for in-motion weighing. Release places scale in "normal" static weighing mode.
Lamp: Momentary action to activate high efficiency light emitting diodes for night usage.
lb/kg: Sets unit of measure
Local/Total: Local is the standard mode for weighing. Total enables the scale to accumulate weights with other similar scales.

Indicators:
Total: Accumulative mode of weighing
Battery: Low battery
Hold: In-motion weighing mode
lb/kg: Unit of measure


Performance:
Speed: 950 milliseconds to typical reading (static).
Accuracy: ±0.1% of reading static mode.
±0.2% of reading holding mode.
Units: lb, kg selectable
Safe Overload: 150% of capacity




| | | | |
| --- | --- | --- | --- |
| Model | Capacity / Graduation | Platform size | Price |
| CW250-300-1S | 300X.1 lb/150X.05 kg | 15"x15"x4"/280x280x100 mm | $1100 |
| CW250-500-5S | 500X.5 lb/230X.2 kg | 15"x15"x4"/280x280x100 mm | $1100 |
| CW250-500-2S | 500X.2 lb/230X.1 kg | 15"x15"x4"/280x280x100 mm | $1100 |
| CW250-1000-5S | 1000X.5 lb/450X.2 kg | 15"x15"x4"/280x280x100 mm | $1100 |
| CW250-1500-5S | 1500X.5 lb/680X.2 kg | 15"x15"x4"/280x280x100 mm | $1100 |
| CW250-2000-1S | 2000X1 lb/900X.5 kg | 15"x15"x4"/280x280x100 mm | $1100 |
| | | | |
| CW250-300-1 | 300X.1 lb/150X.05 kg | 24'x24'x4"/610x610x100 mm | $1260 |
| CW250-500-5 | 500X.5 lb/230X.2 kg | 24'x24'x4"/610x610x100 mm | $1260 |
| CW250-500-2 | 500X.2 lb/230X.1 kg | 24'x24'x4"/610x610x100 mm | $1260 |
| CW250-1000-5 | 1000X.5 lb/450X.2 kg | 24'x24'x4"/610x610x100 mm | $1260 |
| CW250-1500-5 | 1500X.5 lb/680X.2 kg | 24"x24"x4"/610x610x100 mm | $1260 |
| CW250-2000-1 | 2000X1 lb/900X.5 kg | 24"x24"x4"/610x610x100 mm | $1260 |
| Options | | | |
| CW-INTT | 220 VAC/50Hz charging transformer | | $103 |
| CW-IO | 20 ma current loop output | | $75 |
| CW-R24 | 24" x 24" ramp | | $295 |
| CW-R15 | 15" x 15" ramp | | $195 |
| P-DP | battery operated printer | | $795 |
| CW-TW | Transport wheels (2 per platform) | | $95 |
| CW-RI | Remote Indicator | | $195 |
Prices subject to change without notice