EZ Load Bars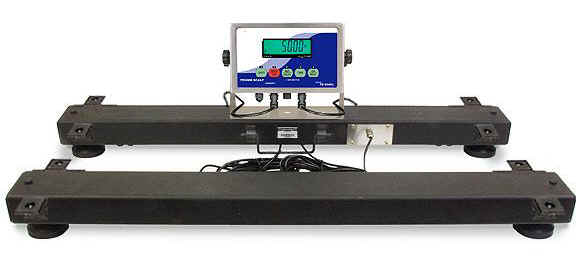 Price: $875

*Pair of Load Bars with a stainless steel weight indicator
*Capacity: 5,000 lb x 1 lb sensitivity
*40" long x 4" wide x 3" high
*Battery and Electric powered weight indicator
*Built in carrying handles
*Shipping Weight: 75 lbs
The EZ Load bars are a highly durable scale set designed with simplicity and portability in mind. In just a few minutes the entire system can be setup and ready to weigh. The standard system includes two weigh bars both with built in handles and 20' of indicator cable, quick disconnects, and a NEMA 4X stainless steel digital indicator with backlight. This fully portable system can be used in livestock weighing, under conveyors, under tanks, hoppers and many other applications. Standard capacity is 2,500 pounds per bar with a total system capacity of 5,000 lbs.
Standard Features
Light Weight & Portable: Can be positioned to weigh easily, or store when not in use. Each Weigh Bar is fitted with an easy carry handle, this provides quick and easy setup and break down for total portability.
Low Profile: Less than 3" high. Supplied in pairs. Total capacity of beams is 5000 pounds per pair.
Push Button Tare: Simple one button Tare provides for the acquiring of the tare and subsequent display of Gross/Net weight values.
Full Duplex RS-232 Port: The Full Duplex RS-232 output to a printer, computer, or other compatible devices.
LCD High Resolution Display: Large easy to view .75" high LCD backlit display