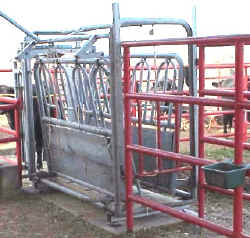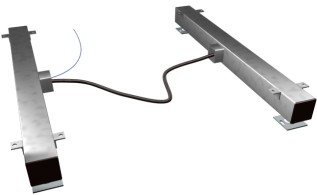 | | |
| --- | --- |
| | Includes one pair of Load Bars and a digital weight indicator |
| | 10 ft of Indicator cable, 8 ft cable between load bars |
| | |
| --- | --- |
| | Factory Pre-Calibrated |
| | No sales tax outside New Jersey |
| | Computer / Printer output standard |
| | Portable, Shipping weight is 80 lbs (shippable by UPS) |
| | Choice of two different weight indicators |
| | Optional Hog & Sheep crate |
Optional Hog & Sheep Crate Kit
Hog & Sheep crate with two gates & 30" long load bars
48" long x 30" wide
Crate kit includes pre-drilled wooden planks and all necessary hardware


Photo of wooden deck
with 30" load bars





Side View


Front View



SBI 140
PStainless Steel enclosure (not waterproof)
Runs on batteries (AA batteries) & Electricity

TI-500SL


Stainless Steel waterproof enclosure
Runs on batteries (rechargeable) & electricity
Our animal scales are heavy duty electronic weigh scales, available in 2500, 5000, or 10000 lb. capacities. They mount easily under any cattle squeeze, hog crate, feed hopper, or custom platform. The scale system is capable of 1/10 percent accuracy, and has a proven track record with over 20 years of field use in operating temperatures of -40 to +40 degrees Celcius.
Loadbars are enviromentally coated for outdoor installation. There are no moving parts to wear out, and no costly maintenance. A safe overload range of 150% of capacity.
The indicator features large easy to read digital readout in either pounds (lbs) or kilograms (kgs). It operates on 120v AC power or an optional Battery operated model. The exclusive lock-on feature averages the animal's weight, thus eliminating the problem of animal movement during the weighing process.
The units are calibrated and balanced at the factory, eliminating the need for an installation technician. Install the scale, press the Zero button, and you're ready to weigh. This also allows you to compensate for manure, mud, or snow build-up on the scale surface.
Each weight indicator has the following front panel keys: lb/kg, TARE, ZERO, PRINT, NET/GROSS.

Dimensions
Capacity
SBI-140

TI-500SL

26" long x 5" high
2,000 lb x 0.2 lb or 2,500 lb x 0.5
$1,095
$1,195
36" long x 5" high
5,000 lb x 1 lb or 5,000 lb x 0.5
$1,095
$1,195
48" long x 5" high
2,000 lb x 0.2 lb or 2,500 lb x 0.5
$1,195
$1,225
48" long x 5" high
5,000 lb x 1 lb or 5,000 lb x 0.5
$1,195
$1,225
48" long x 5" high

10,000 lb x 2 lb or 10,000 lb x 1

$1,195
$1,225
60" long x 5" high

5,000 lb x 1 lb or 5,000 lb x 0.5

$1,275
$1,365
60" long x 5" high

10,000 lb x 2 lb or 10,000 lb x 1

$1,275
$1,365
60" long x 5" high
15,000 lb x 5 lb
$1,475
$1,525
Hog & Sheep crate kit with 30" load bars
48" long x 30" wide crate
with 5000 lb x 1 lb load bars
$1350
$1550
Optional Hog & Sheep crate kit comes complete with pre-drilled holes and hardware
*Custom sizes are no problem