Ultra low profile - HD portable truck axle scale

Ultra low profile - HD portable truck axle scale
| | |
| --- | --- |
| | IP68 Stainless Steel load cells for harsh working conditions |
| | Weighing Surface: 24" x 16" (wide enough for dual tires) |
| | 30,000 lb capacity per pad |
| | Fitted with wheels for greater portability |
| | Sturdy aluminum construction |
| | 32 ft cable with quick disconnect for connecting platform to indicator |
| | Built-in ramps with special non-slip rubber applied underneath for good grip on most surfaces |
| | Weight: 57 lbs each |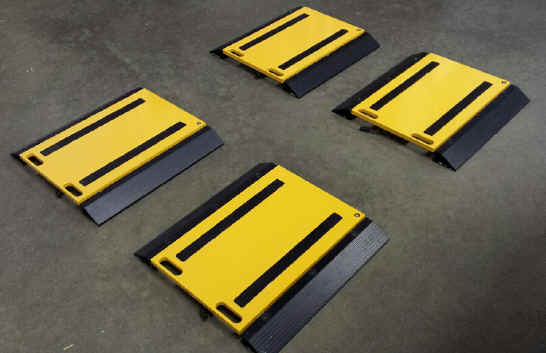 24" wide x 16" weighing surface with built-in ramps
Stainless Steel load cells & waterproof junction box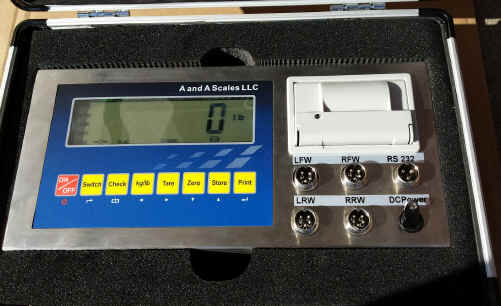 AX-5 weight indicator in portable case with roll tape printer
All the scale pads connect to one display. Displays in Lbs & Kgs, RS232 printer/computer output
Internal rechargeable battery (12 hour continuous use battery life, 8 hour recharge).
WHEEL WEIGHING mode it is possible to print/display:
The weight of the individual platforms, sum of any of their combinations, total weight of all the platforms and the axle weights
Prints ID number, time & date, individual wheel weights, axle weights as well as Gross Tare Net.
Model
Capacity

Price

Ultra low profile HD-2 Wheel Weigher
(Set of 2 scales & AX-5 display with printer)
60,000 lb x 10 lb increments
(2) 30,000 lb capacity scales


One axle at a time

$3645

Ultra low profile HD-4 Wheel Weigher


(Set of 4 scales & AX-5 display with printer)
120,000 lb x 10 lb increments
(4) 30,000 lb capacity scales
Two axles at a time

$6290

Ultra low profile HD-6 Wheel

Weigher
(Set of 6 scales & AX-5 display with printer)
180,000 lb x 10 lb increments
(6) 30,000 lb capacity scales
Three axles at a time
$9095


Built-in wheels and ramps for greater portability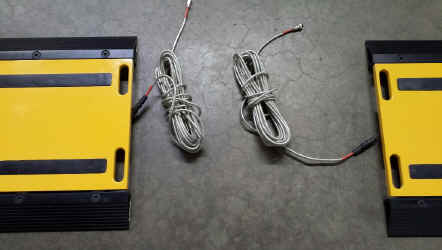 Armor Braided cables with quick disconnects on both ends