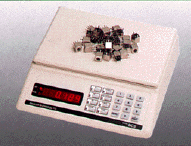 Price: $325
| | |
| --- | --- |
| | High Resolution - Up to 600,000 Internal Counts |
| | Keyboard Tare |
| | Keyboard Unit Weight Entry |
| | Check Limit Function |
| | Accumulator Function |
| | 6 Digit LED Display |
Available Capacities
MCS-2 2 lb x 0.0002 lb
MCS-5 5 lb x 0.0005 lb
MCS-10 10 lb x 0.001 lb
MCS-20 20 lb x 0.002 lb
Platter size: 7.87" x 5.70"
Overall size: 8.46" x 8.46"
Construction: Ivory ABS plastic
Base & Substructure: Metal
Method of operation: Simply place a sample on the scale, for example "10" pieces then type in the number "10" on the keyboard. Place the rest of the pieces (up to the scale capacity) on the scale and the piece count will be displayed. If the individual piece weight is already known, type in the piece weight and place the items to be counted on the scale. The scale will then display the total piece count.
Taring the weight of a container: If a container will be used to hold the pieces simply place the empty container on the scale and press the "TARE" key to deduct the weight of the container. You can then proceed with the procedure explained above.