Setra HI & SI Toploading Balance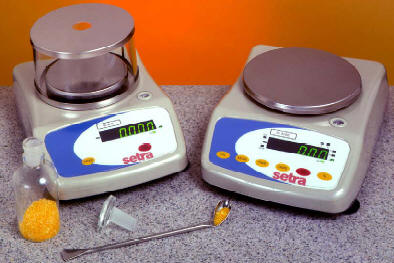 HI & SI Topload Balance

Award winning variable capacitance sensing technology. Large bright LED display. Rapid update rate for filling. Bidirectional RS232. Rugged die cast aluminum housing. Chemically resistant keypad. Stainless steel weighing pan. Standard RS232 interface.

HI series has keys for CAL, MODE, PRINT, UNITS, TARE/POWER, %. Units are grams, ounces, carats, %, g per second, user defined unit. Fast or slow update rate. Print will transmit data instantaneously, continuously or at selected intervals.

SI has keys for MODE, TARE/POWER. Dual range balances display the finest resolution whenever the balance is tared, regardless of how much weight is zeroed out. 120VAC adapter, 11"L x 7"W x 3"H.
Part number
Capacity
Pan
Price
HI410S*
410 x 0.001g
4.75" dia
895.00
HI4100S
4,100 x 0.01g
6.25" dia
795.00
SI200S*
200 x 0.001g
4.75" dia
795.00
SI410D*
100 x 0.001g /410 x 0.01g
4.75" dia
795.00
SI410S*
410 x 0.001g
4.75" dia
795.00
SI2000S
2,000 x 0.01g
6.25" dia
695.00
SI4100D
1,000 x 0.01g /4,100 x 0.1g
6.25" dia
695.00
SI4100S
4,100 x 0.1g
6.25" dia
695.00
* Cylindrical draftshield included
Options
Printer, Dymo labelwriter (need connector)
623.00
Connector RJ45-DB25 for Dymo printer
27.00
Draftshield, 3way glass door for 4.75" dia pan
118.00
Dustcover
7.00
Security lock kit
25.00
Please call if you do not see the Setra scale you are looking for.